Oct
6
Wed
After EngSci: Medical School

@ Zoom link will be emailed after registration
Oct 6 @ 7:30 pm – 8:30 pm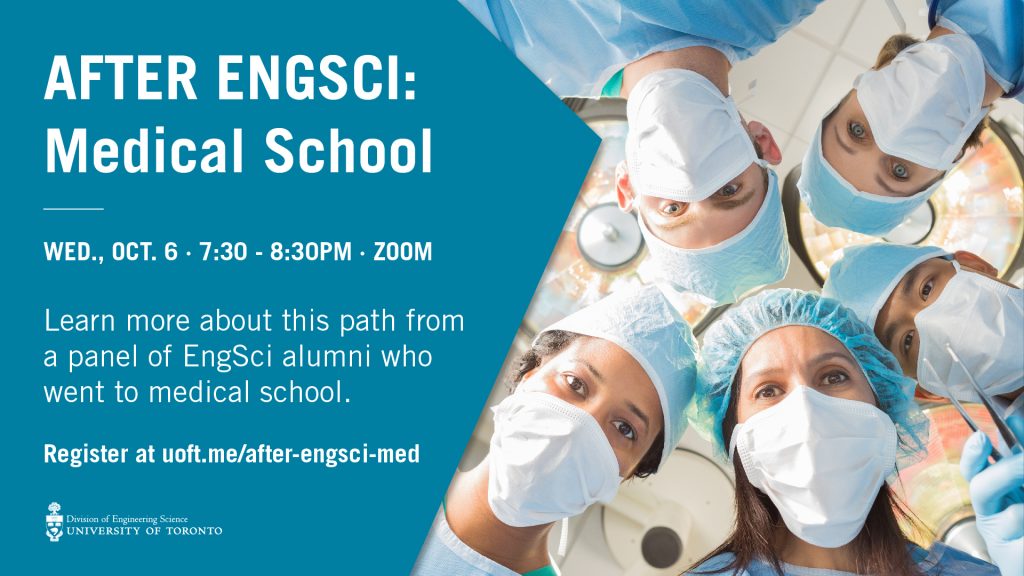 EngSci students, thinking of going to medical school after graduation?
Join us for a panel discussion with EngSci alumni with medical degrees.
Zoom link will be emailed to you after registration.
Every year a number of our graduates enter medical school with the goal of becoming physicians or medical researchers.
Learn more about the varied career paths of our alumni panelists as clinicians and/or researchers, and get advice on how to apply to medical school in Canada and abroad.
Find full details and registration at uoft.me/after-engsci-med.
Apr
13
Wed
Skule Lunch & Learn presents: An Experimentalist's View on Trusting AI and Its BFF (Data)

@ Online event
Apr 13 @ 12:00 pm – 1:00 pm

U of T Engineering alumni, join us for this monthly series.
Artificial Intelligence (AI) is now a part of the standard physical scientist's tool kit, and it is regularly used to discover exciting new materials and processes. But AI is famously fickle, susceptible to data set bias and imbalance, subject to information leakage during training, and reliant on humans to evaluate its performance.
Professor Jason Hattrick-Simpers (MSE) discusses best practices for the implementation of AI techniques in the field of materials science, the challenges and successes of his research, and why he believes that robots can help us learn to better trust AI.
Read the abstracts and register for this free and exclusive event.
Oct
1
Sat
U of T Engineering @ OUF

@ Metro Toronto Convention Centre
Discover U of T Engineering at this year's Ontario Universities' Fair (OUF)!
At this event, high school students can gather information and chat with staff and current students from our program.
Our Faculty will have a booth at the fair with representatives from all of our programs, including Engineering Science.
OUF runs from 9:30 am to 5 pm daily.  Find full details and get your OUF Pass here.