What are the costs, benefits and implications of peer-to-peer technologies such as Uber, AirBnB and Kijiji? At this month's BizSkule event on April 28, alumnus Bowie Cheung (EngSci 0T6 MASc ECE 0T8) will discuss the changing landscape of our economy with an exciting panel of industry leaders.
Cheung is the gen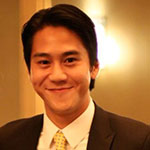 eral manager for UberEverything in Toronto. UberEverything leverages Uber's expansive network of drivers to deliver you anything in the city more conveniently, affordably and reliably than picking it up for yourself. The flagship product in Toronto, UberEATS, delivers hot meals from over a hundred of Toronto's best restaurants at Uber speed. What gets Cheung excited is finding new ways that technology can help enable people to feel more connected with their cities.
In addition to his engineering degrees from U of T, Cheung holds an MBA from the Northwestern University Kellogg School of Management. Prior to joining Uber, Cheung practiced management consulting at Bain & Company in their technology practice.