Many of our students and alumni have been recognized with prestigious awards for their outstanding academic and professional accomplishments and contributions to community.
Every year, the Division of Engineering Science presents several student and alumni awards, and supports nominations for other university awards.
Do you know a student or graduate you'd like to see us nominate?  Please contact our External Relations Officer, Christina Heidorn, at engsci@utoronto.ca.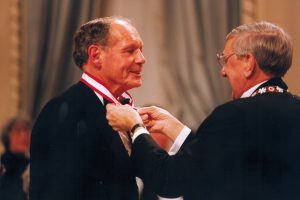 Student Awards
The awards listed below are non-academic student awards that recognize leadership and volunteerism.
The Spirit of EngSci Award is presented by the Division of Engineering Science in recognition of graduating students for exemplary non-academic contributions within the University community.  Students are nominated by their peers.
This Etkin Medal for Excellence was established by the late University Professor Bernard Etkin (EngPhys 4T1), who served as Chair of Engineering Science (1967-1972) and Dean of the Faculty (1973-1979). It commemorates his career-long interest in the theory and application of solid and fluid mechanics, subjects he taught for many years to EngSci students and which were the basis of most of his research and professional work. The medal is awarded annually to an EngSci student on the basis of outstanding performance in selected courses in solid and fluid mechanics in the second and third year of the curriculum.
The U of T Student Leadership Awards (UTLSA)-formerly Gordon Cressy Awards-are presented to graduating students for outstanding student leadership, service, and commitment to the university.
A number of honours are presented by the Division of Engineering Science or the university to alumni in recognition of their significant volunteer contributions and professional accomplishments.