Engineering science is an interdisciplinary field bridging the gap between scientific theory and engineering applications. It emphasizes the integration of mathematical, scientific, engineering and arts principles.
Engineering scientists have the skills to conduct scientific research and use the results to develop commercial applications.
Their cross-disciplinary and team work training give them a unique perspective and problem-solving approach that help them tackle tough engineering challenges.
What is Engineering Science at U of T?
Engineering Science (EngSci) at the University of Toronto is one of the most distinguished engineering programs in the world.  It is designed for students who are looking for an intense academic challenge and are excited about working in collaboration with diverse peers, clients, and communities.
The EngSci curriculum is nimble with dynamic majors that evolve and anticipate emerging technologies. This enriched program is taught at an accelerated pace. It prepares students well for graduate studies or careers in a wide range of engineering fields.
Our program has a unique "2+2" curriculum structure different from other engineering programs. Your first two years build a strong foundation in engineering, math, science, computing, humanities, and team work. Your final two years specialize in one of eight majors for accelerated, discipline-specific learning.
Engineering Science students benefit from a very strong design and communication curriculum throughout the program, with considerable preparation for post-graduation endeavors.
The EngSci program shares elements with other U of T Engineering programs, but is distinct in several ways:
It is delivered at a more academically demanding level.
It contains more mathematics, science and engineering science, with greater focus on deriving results using a first principles approach.
It requires all Year 4 students to complete an independent research thesis.
Who are EngScis?
Our students thrive in a supportive and close-knit community of exceptional individuals, creating an enriched and unique learning environment.
We strive to recruit students who are driven to work independently and collaboratively with others, and who are prepared to face the challenges of a rigorous program with determination and resiliency.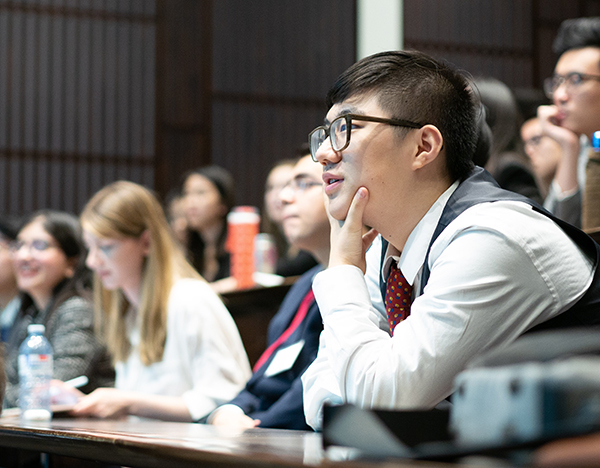 EngSci is for students who are excited about collaborating with diverse classmates in team environments. We firmly believe that professional success stems from the ability to engage effectively with the differing perspectives of peers, clients, and community stakeholders.
Top students from across Canada and around the world choose to study in this program, making for a superb peer group that contributes significantly to the quality of the program and the student experience.
Where can EngSci take you?
In addition to providing exceptional academic training, our program develops fast learners with strong analytical, problem-solving and organizational skills who thrive on working independently or in teams.
Graduates tend to be well-rounded, with interests beyond the classroom that include leadership, volunteerism and community-building.
Over half of our graduates pursue post-graduate studies at top graduate or professional schools around the world in fields including engineering, science, medicine, architecture, business, law, and public policy.
Graduates of the program are also in high demand for direct entry into professional engineering-related careers and are confident in pursuing grand challenges.
All EngSci graduates are eligible to become licensed professional engineers.