Nov. 19, 2019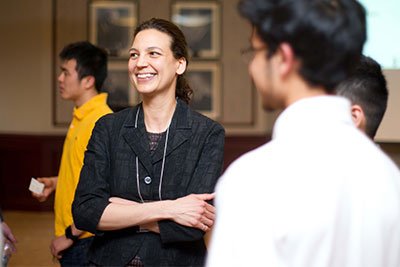 A generous donation from law firm Bereskin & Parr LLP will support student teams in U of T's Entrepreneurship Hatchery as they take their ideas from initial spark to viable startup.
Read the full story here.
EngSci alumna Isi Caulder (EngSci 8T9, ElecE MASc 9T1, LLB 9T5) is a Bereskin & Parr partner and has been an enthusiastic student team mentor for over five years. "More and more EngSci students are pursuing entrepreneurial opportunities," says EngSci's Interim Chair, Professor Will Cluett.  "The Hatchery is a wonderful place for nurturing our students with this passion. Isi and her firm are providing the kind of support needed to make this possible."
Companies that were founded by EngSci students and got their start in the Hatchery include Pheedloop, Kepler Communications, and MedChart.
Are you an EngSci graduate who would like to engage with entrepreneurial students?  Join the Entrepreneurship Hatchery Group in U of T Engineering CONNECT.