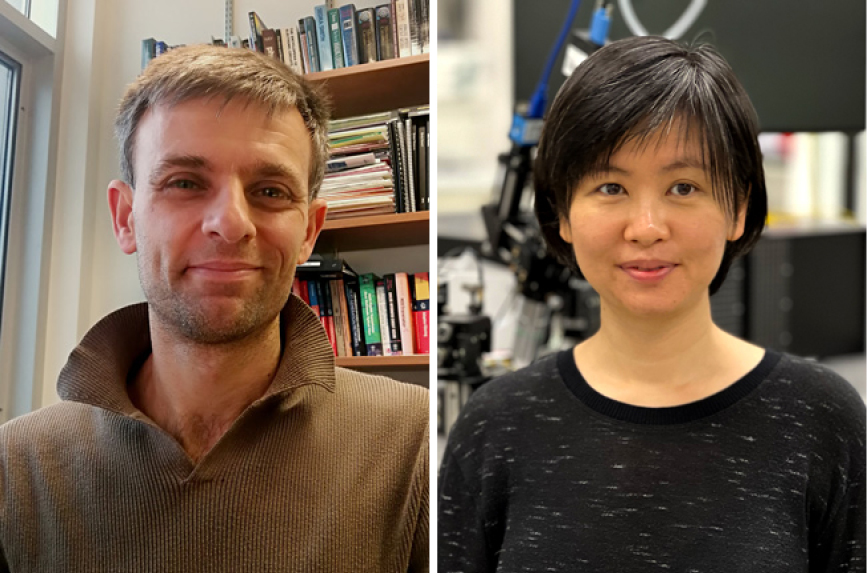 By Matthew Tierney
The world's largest technical professional organization, IEEE, has named its Fellows for 2022 — including ECE Professors Tony Chan Carusone (EngSci 9T6 PEY) and Joyce Poon (EngSci 0T2). IEEE Fellow is the highest grade of membership, given to those whose outstanding accomplishments in engineering, science and technology have shown significant value to society.
Chan Carusone, who is cited for 'contributions to integrated circuits for digital communication,' realized early in his career that his research in communication and control systems would have the most impact in the context of microchip design.
"That is where the rubber meets the road in electrical and computer engineering," he says. "And I saw digital communication technologies as the most transformative technology of our age."
The connective tissue of our high-speed digital world is the integrated circuit (IC) — the microchip — and designing faster ICs with greater reach and reliability impacts a myriad of fields: everything from digital communication to imaging and machine learning.
One can draw a direct line between efficiency gains in micro- and nanoscale IC design to vast, impactful areas such as sustainability, Chan Carusone says.
"For the past ten years I've been working to lower the power consumption of the microelectronics that handle our communication traffic, with hopes of reducing our footprint on the planet."
Over his career, his research has earned him seven best-paper awards at IEEE conferences, and he's served on many editorial boards and technical program committees of the world's leading journals. He co-authored the textbook Analog Integrated Circuit Design and recently took up the torch from Professors Adel Sedra and K.C. Smith (EngSci 5T4) to co-author the 8th edition of the classic textbook, Microelectronic Circuits.
Professor Poon's research focuses on a different medium of transmission: not electrons, but photons. Cited by IEEE for 'contributions to integrated photonics on silicon and resonant microphotonic devices,' she looks to advance computing and reduce power consumption by using light from the infrared wavelength to the visible spectrum.
"What drives me and my research is envisioning what computers will be like in ten years or so," Poon says. "Quantum computing, neuromorphic computing, wearable displays, and eventually brain interfaces are all part of that future. I see photonics taking computing technology into new directions."
She mentions her past work with silicon photonic foundries, which demonstrated how photonic integrated circuits (PICs) could enable new devices and functionalities, as one of her proudest accomplishments to date.
In 2018, Poon was named a Director of the renowned Max Planck Institute of Microstructure Physics in Germany, heading the new department of Nanophotonics, Integration, and Neural Technology. She regularly serves on technical program committees and is a Director-at-Large of Optica (formerly known as the Optical Society).
While their research interests may have followed different paths, Chan Carusone and Poon share beginnings as undergrads in University of Toronto's Division of Engineering Science. When reflecting on their elevation to IEEE Fellow, they both mention the people they've been fortunate to work with, learn from, and teach.
"I am deeply honoured by the elevation and cannot emphasize enough how grateful I am for the many team members and collaborators who make the work possible," says Poon. "This recognition shines a spotlight on our team, our ideas and our efforts over the years."
Chan Carusone adds, "The most inspiring and innovative people I've encountered are IEEE Fellows, and I'm proud to count myself among them. But I'm most proud of seeing my grad students accomplish amazing things during and after their degree."
Professor Deepa Kundur, Chair of ECE, sees Chan Carusone and Poon as part of the continuity of excellence in the department. "The commitment and talent that they bring to their work exemplify the ideals of engineering: bettering society while mentoring the next generation. Sincere congratulations to Tony and Joyce on this prestigious recognition."
This story was originally published in the ECE News.