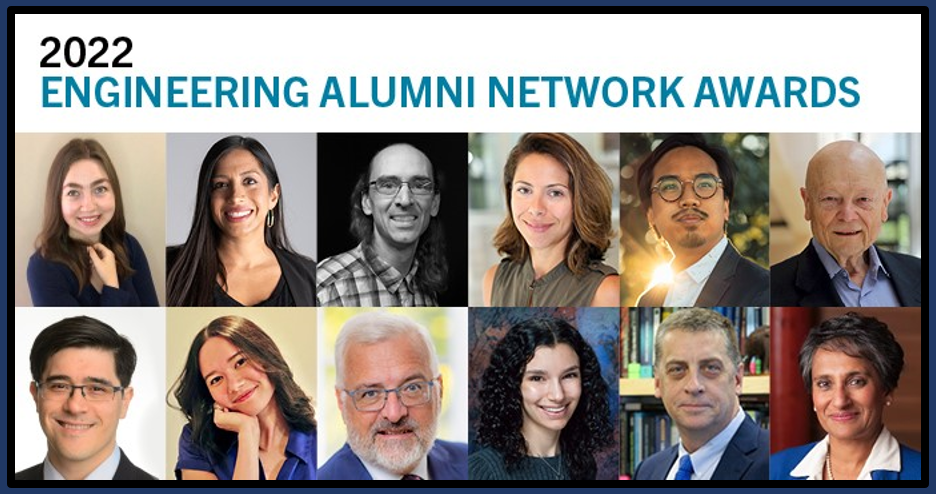 This year, twelve U of T alumni and students were honored with the 2023 Engineering Alumni Network Awards. Engineering Science is proud to announce that three of the EAN Awards recipients were from EngSci.  Jonathan P. How (EngSci 8T7) and Doug Sinclair (EngSci 9T7) received the Engineering Alumni Hall of Distinction Award, and Mackenzie Seward (EngSci 2T2) received the L.E. (Ted) Jones Award of Distinction.
Meet the EngSci EAN Awards recipients:


Jonathan P. How, EngSci 8T7
Engineering Alumni Hall of Distinction Award
Jonathan P. How is the Richard C. Maclaurin Professor of Aeronautics and Astronautics at the Massachusetts Institute of Technology. He received a B.A.Sc. (Aerospace) from the University of Toronto in 1987, and his S.M. and Ph.D. in Aeronautics and Astronautics from MIT in 1990 and 1993, respectively, and then studied for 1.5 years at MIT as a postdoctoral associate. Prior to joining MIT in 2000, he was an assistant professor in the Department of Aeronautics and Astronautics at Stanford University.
Dr. How was the editor-in-chief of the IEEE Control Systems Magazine (2015-19), an associate editor for the AIAA Journal of Aerospace Information Systems (2012-21) and IEEE Transactions on Neural Networks and Learning Systems (2018-21). He was the Program Vice-chair (tutorials) for the 2021 Conference on Decision and Control and will be the Program Chair for the American Control Conference in 2025. He was elected to the Board of Governors of the IEEE Control System Society (CSS) for 2020-22, is on the IEEE CSS Long Range Planning Committee (2022 – ), is a member of the IEEE CSS Technical Committee on Aerospace Control and the Technical Committee on Intelligent Control, was a member of the IEEE Fellows Selection committee for CSS (2021-22), and since 2021, he serves as the AIAA Director on the American Automatic Control Council. He is also the Director of the Ford-MIT Alliance and was a member of the USAF Scientific Advisory Board (SAB) from 2014-17.
His research focuses on robust planning and learning under uncertainty with an emphasis on multiagent systems, and he was the planning and control lead for the MIT DARPA Urban Challenge team. His work has been recognized with multiple awards, including receiving the 2020 IEEE CSS Distinguished Member Award, the 2020 AIAA Intelligent Systems Award, the 2015 AeroLion Technologies Outstanding Paper Award for Unmanned Systems, the 2015 IEEE CSS Video Clip Contest, the 2011 IFAC Automatica award for best applications paper, and the 2002 Institute of Navigation Burka Award. He also received the Air Force Commander's Public Service Award in 2017. He is a Fellow of IEEE (2018) and AIAA (2016) and was elected to the National Academy of Engineering in 2021.

Doug Sinclair, EngSci 9T7
Engineering Alumni Hall of Distinction Award
Doug has spent his career in the space industry and is privileged to have more than 100 satellites on-orbit today. After graduating from Engineering Science – Aerospace Option, Doug completed a MSc in Satellite Engineering from the University of Surrey in the UK. He then joined Dynacon Enterprises as an Electronics Engineer. At Dynacon he designed and built the power system for the MOST space telescope, as well as the attitude-control computers and reaction wheels for NASA's CHIPSat. Doug then founded Sinclair Interplanetary, a company that designed and built components for spacecraft. Sinclair Interplanetary grew quickly from a sole operation to a 10-person business supplying components for hundreds of satellites. In 2020, they were acquired by Rocket Lab, where Doug now holds the position of Engineering Fellow and Vice-President at Rocket Lab. A committed supporter of the Canadian space industry, Doug mentors young engineers and entrepreneurs through the Creative Destruction Lab.

Mackenzie Seward, EngSci 2T2
L.E. (Ted) Jones Award of Distinction
Mackenzie's love for the performing arts has driven her to be involved in many aspects of the SkuleTM community. In her first year at U of T, she participated in SkuleTM's Got Talent, both in a performance with the Skule Dance Club and with a solo singing and piano performance. She later joined Skule Nite and was a part of their team for four years. Her roles as Vocal Director, cast member, and most recently as Assistant Producer, gave her the opportunity to get involved in musical sketch comedy production, both for theatrical and filmed performances. Mackenzie's time working alongside her peers to create art has been one of the highlights of her time at U of T, and she hopes to remain involved in the performing arts while pursuing her engineering career.