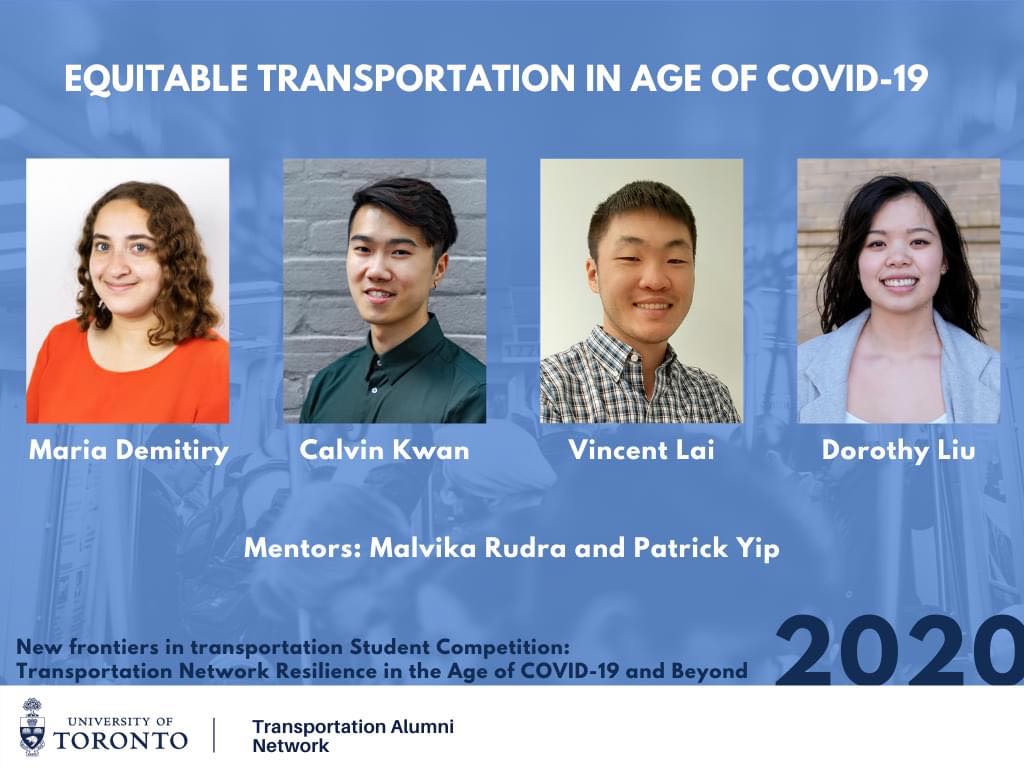 The COVID-19 pandemic has raised awareness of inequities and challenges in transportation.  The U of T Transportation Alumni Committee used this unique opportunity to focus their annual New Frontiers in Transportation student research competition on these issues under the theme of "Transportation Network Resilience in the Age of COVID-19 and Beyond."
The competing student teams' research projects were presented at a public online symposium on November 12, 2020.
Engineering students were well represented, as 41 per cent of total participants. EngSci student Maria Demitiry (Year 4) joined several CivE students to form a team working on a project titled "Equitable transportation in the age of COVID-19".
Their study leveraged transit data and public health and safety measures to inform policy changes that will promote transportation equity in the post COVID-19 Greater Toronto and Hamilton Area.  The team conducted research and interviewed peer agencies about strategies for building an equitable transportation network in the Greater Toronto and Hamilton Area post-COVID-19.
"This challenge was an excellent opportunity to engage with industry mentors and to learn more about an area of interest of mine–equitable transportation," says Demitiry. "This work really strengthened my research, writing, and presentation skills, allowed me to network with industry professionals, and gave me an appreciation of the importance of teamwork.  For students interested in a competition like this, I'd advise to be organized, communicate regularly and effectively with your teammates and mentors, and narrow down the scope of your project early on."