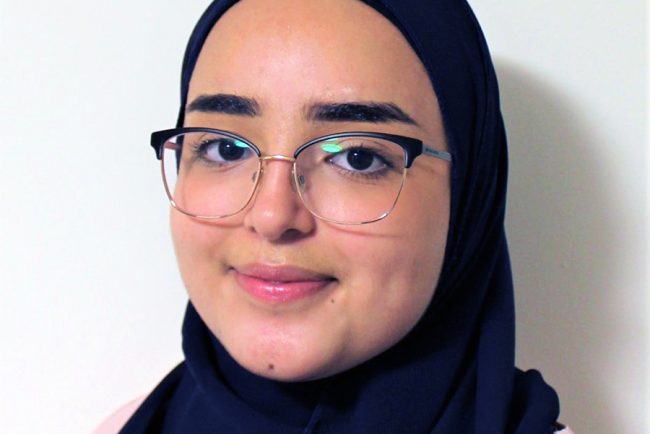 By Safa Jinje
Eman Shayeb (Year 1 EngSci) is a visual thinker. As an artist, she has sold commissioned oil paintings across North America. And as an engineering student, mathematical equations also take shape in her mind. 
"In my calculus class, I remember the concepts because I can visualize parts of the equations moving around into the spot that they need to be in next," she says. 
Shayeb sees engineering as an extension of her passion for art and mathematics. This fall, she joined U of T Engineering on a Loran Scholars Foundation scholarship, one of only 30 recipients from across Canada recognized for demonstrating character, service and leadership. 
Originally from Edmonton, Shayeb was attracted to the University of Toronto because she wanted to live in a big city where she could be exposed to diverse perspectives.  
She is also keen to develop new technical skills that she can use to make a difference in people's lives. 
"I believe that engineering can be used as a tool for social justice, which is important to me," she says. "I think that many of our modern social issues can be solved through the correct applications of engineering." 
While in high school, Shayeb founded a provincial non-profit called H.E.A.R. for Them that is dedicated to combating period poverty by making menstrual products more accessible. 
"We are currently in the process of expanding the program to Ontario," says Shayeb. "We are setting up 'take what you need, give what you can' boxes in locations around Toronto for people to drop off any extra menstrual products that they have, or take anything they need with no questions asked." 
Shayeb is also co-writing and illustrating a book with a friend about stigmas in Muslim households. The two hope their publication will create a bridge across communities to discuss issues that are not openly addressed, such as the double standards placed on Muslim women. 
Being named a Loran Scholar in a field of more than 6,000 applicants was, in Shayeb's words, "surreal." 
"This scholarship gives me the opportunity to pursue all of the things that I love to do, while also pushing me to impact my community in a positive way," she says. "It challenges me to take on a range of responsibilities that I may not have previously considered." 
In her time at U of T Engineering so far, Shayeb has developed a preliminary interest in aerospace engineering, but she is also considering a career in computing or the energy sector. One thing is for certain: human impact will remain a key goal. 
"I know that whatever I do will have a focus on using engineering as a tool to help people." 
This story was originally published in the U of T Engineering News.